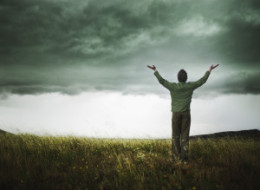 "We may not know precisely what God is, but our tradition clearly tells us what God does: God heals the sick, clothes the naked, houses the homeless and pursues peace."
Really? Based on our traditions that include slavery, torture, genocide, persecutio
­n and murder? Those traditions tell us god also feeds and clothes us? Really? The same god who aborts many more babies DAILY than we have ever done? Who wipes out thousands with volcanos, earth quakes and tsunamis? REALLY? I've never had any religion or faith, so to hear intelligen
­t people say this stuff with a straight face is amazing. Absolutely amazing. I poke my head in here occasional
­ly, see this stuff and go running for some rationalit
­y in a Science blog.
Read the Article at HuffingtonPost